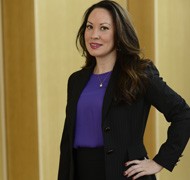 Dr. Patricia Back
Owner
Dr. Back has always thought outside traditional models, including in the field of healthcare. Even prior to completing her residency, she began working as an independent physician contractor. She has worked mostly in the hospital setting, but also has experience in urgent care and underserved clinics.
In addition, she has volunteered her time and effort to encourage social justice, both locally and internationally. Through her volunteer work, she has seen the struggle and hardships of those who lack adequate healthcare. She is particularly passionate about caring for immigrants and refugees, providing them high quality medical services. As a certified USCIS civil surgeon, she is able to complete the immigration medical exams and does so in a timely and caring manner. 
She is happy to be able to provide medical services in a relaxed environment, where the health and well being of the patient as a whole person is the primary focus, rather than administrative paperwork and insurance hassles. She is interested in working with you to achieve your optimal health.
For an appointment or to discuss your healthcare needs with Dr. Back, please call (859)287-2981.